Electronic Food Scale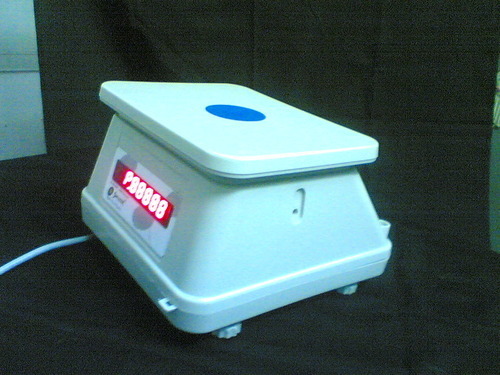 Electronic Food Scale
Product Code : 01
Minimum Order Quantity
1
Unit of Measure
Piece/Pieces
Note:- Pan Size 75 mm Dia., 120 mm Dia., 120 mm x 120 mm Available As Per Requirement
Specifications :Sensor : High Quality Load cell
100000 Counts Internal Resolution

• Operating Temperature.: 10°C to 60°C.
• Storage Temperature. : -10°C to 60°C.
• Humidity: 10% to 95 % relative.
• Power Supply :230 Volt / 50 Hz ± 5%.
• Battery Backup: In Built Battery Backup (6 V Sealed Maintenance Free Battery).
• Power Consumption : Less than 10 Watts.
• Display: 7 Segment Bright LED Display .
• All Models & Designs Are Subjected to Change.
• All Models Are Approved by Department of Weights & Measure, Govt. Of India.

Features:-• Compact and Light Weight.

• 100% Tare Facility.

• Advanced Micro controller Based System.
• Acrylic Wind Shield for Stable Better Performance.
• Overload Protection for Safety.

Fast Response < 2 Seconds

• Easy Operation with Feather Touch Membrane Keys.
• Most Precise and Best Quality Components.
• Stainless Steel Pan.
• Bright Clear (Red) LED Display.
•Port for External Display.
•Multi Function Series With All Most Useful Functions like Memory Accumulation, Auto Zero Tracking, Auto Off, Sensitivity Setting, Alert / Check Weight, G - Define, Intensity Adjustment, Running Character Display.
• Auto Calibration
• Multi Weighing Units Like Gram, Tola, Carat, Piece Counting,
• Stand by mode For Long Time Backup (Battery Saving).
• AC / DC Indicator.
Applications :• Jewellery Showrooms for Gold, Silver and Precious Stone Weighing.
• Laboratories
• Chemical, Pharmaceutical Industries
• School & Colleges, Institutions for Experiments.
• Research & Development For Analysis
Optional :• RS 232 Port for Computer / Printer Interface (Optional).
• Hook Facility Available For Suspended Weighing As Per Requirement.

Inbuilt Battery Back Up

• Extra Remote Display