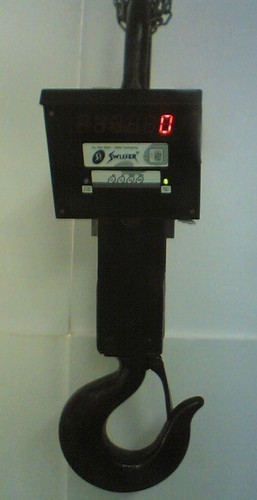 Product Description
| | | | |
| --- | --- | --- | --- |
| Model No. | Capacity | Accuracy | Pan Size |
| SWIC 100 | 100 kg | 10 gm | HOOK |
| SWIC 200 | 200 kg | 20 gm | HOOK |
| SWIC 300 | 300 kg | 50 gm | HOOK |
| SWIJ 500 | 500 kg | 50 gm | HOOK |
| SWIC 1000 | 1000 kg | 100 gm | HOOK |
| SWIC 2000 | 2000 kg | 200 gm | HOOK |
| SWIC 3000 | 3000 kg | 500 gm | HOOK |
| SWIC 5000 | 5000 kg | 500 gm | HOOK |

Heavy Duty Crane Scale
| | | | |
| --- | --- | --- | --- |
| SWIC 10000 | 10000 kg | 1 kg | HOOK |
| SWIC 15000 | 15000 kg | 2 kg | HOOK |
| SWIC 20000 | 20000 kg | 2 kg | HOOK |
| SWIC 25000 | 25000 kg | 5 kg | HOOK |
Specifications:


Operating temperature: 10°C to 60°C
Storage temperature: -10°C to 60°C
Humidity: 10% to 95 % relative
Power supply: 230 Volt / 50 Hz ± 5%
Display: 7 segment bright LED display /LCD display
All models & designs are subjected to change
All models are approved by Department of Weights & Measure, Govt. Of India

Features:


Advanced micro controller based system
Overload protection for Safety
Most precise and best quality components
Stainless steel pan
Bright (Red / Green) LED display
Auto calibration
Standby mode for long time backup (battery saving)
AC / DC indicator
Applications:
Expert houses, manufacturing Unit
Engineering, chemical, plastic industries
Heavy industries for weighing & packing
SWISSER INSTRUMENTS PVT. LTD.