Laboratory Weighing Balance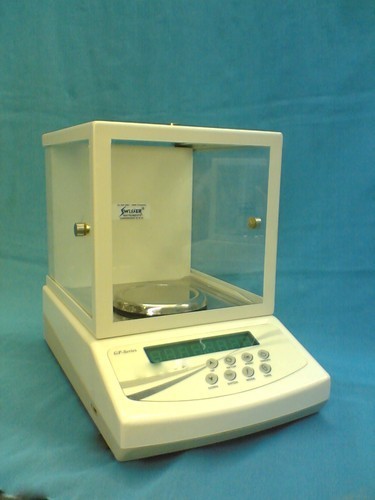 Laboratory Weighing Balance
Product Code : 01
Price And Quantity
Minimum Order Quantity
1 Perch
Laboratory Weighing Balance
SWISSER Laboratory Scales are produced by using high quality materials and the scales have an excellent finishing and are made consisting of a strong built and they are very accurate. SWISSER Scale gives out a very strong performance. These scales are made by skilled Engineers . Our highly skilled and trained professionals make sure that the products conform to the latest standards ( As per BIS , ISO & CE ) and offer a durable working life. These Scales are popular for low maintenance requirements and trouble-free functioning
Laboratory Scales are ideal to be used in labs, pharmaceutical industries and quality control labs. These are highly accurate and are provided with LED display with reset panel. We offer these in standard as we as customized form as per the demands of our consumers.
The laboratory scales offered by us responds quickly with accurate results.
To ensure its best quality, this scale is stringently inspected on diverse parameters of quality in tune with predefined industry standards.
Laboratory Series (Multifunction)
| | | | |
| --- | --- | --- | --- |
| Model No. | Capacity | Accuracy | Pan Size |
| SWIL 310 | 300 gm | 0.01 gm=10 Mg | 100 MM dia. |
| SWIL 510 | 500 gm | 0.01 gm=10 Mg | 100 MM dia. |
| SWIL 1000 | 1000 gm | 0.01 gm=10Mg | 100 MM dia. |
| SWIL 003 | 1 Kg/3 Kg | 10Mg / 100Mg | 150 MM dia. |
| SWIL 301 | 50/300 gm | 1 Mg / 10 Mg | 75 MM dia. |
| SWIL 101 | 100 gm | 0.001gm = 1 Mg | 75 MM dia. |
| SWIL 201 | 200 gm | 0.001gm = 1 Mg | 75 MM dia. |
| SWIL 301 | 300 gm | 0.001gm = 1 Mg | 75 MM dia. |
| SWIL 401 | 400 gm | 0.001gm = 1 Mg | 75 MM dia. |
| SWIL 501 | 500 gm | 0.001gm = 1 Mg | 75 MM dia. |
| SWIL D 611 | 6000 gm | 0.1gm / 10 Mg | 120 MM dia. |
Features
Constructed of High Impact Body
Compact and Light Weight
Bright & Clear, Wide Angle LED display
Multi Weighing Units like Gram, Tola, carat, GSM
Multi Function Series
Extra Display Connector Ready
Alert Audio – Visual Indications
Display Intensity Adjustment
Fast Response < 2 Seconds
100% Tare Facility
Power Save Mode
Optional
External Battery Back Up
Remote Display
Cabinet or Wind Shield Foldable
RS. 232 C Interface Port for Computer – Printer
2 To 20 mv Output
Technical Data
Designed On Advanced Micro Controller Technology
Power 230V AC + 10% 50 HZ
Temperature Range – 10° C to 50° C
12.5 MM LED Display
100,000 Internal Resolution
Sensor – EMFC
Safe Overload Up to 200% of Rated Capacity
Ultimate Overload Up to 300% Of Rated Capacity
Application
Jewellery Show room
Laboratories
Chemical, Pharmaceutical Industries
School & Colleges Lab.
Research & Development