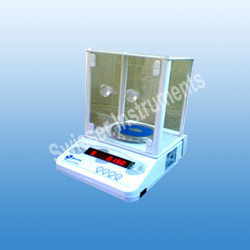 Product Description
Jewelery Weighing Scale
| | | | |
| --- | --- | --- | --- |
| Model No. | Capacity | Accuracy | Pan Size(Diameter) |
| SWIJ 110 | 100 gm | 10 mg | 100 mm |
| SWIJ 210 | 200 gm | 10 mg | 100 mm dia. |
| SWIJ 310 | 300 gm | 10 mg | 100 mm |
| SWIJ 520 | 500 gm | 20 mg | 100 mm |
| SWIJ 510 | 500 gm | 10 mg | 100 mm dia. |
| SWIJ 620 | 600 gm | 20 mg | 100 mm |
| SWIJ 610 | 600 gm | 10 mg | 100 mm |
| SWIJ 1020 | 1000 gm | 20 mg | 100 mm |
| SWIJ 500/1000 | 500/1000 gm | 10/50 mg | 100 mms |
NOTE:- Pan Size 75 mm Dia., 120 mm Dia., 120 mm x 120 mm Available As Per Requirement
Specifications:


Operating Temperature.: 10°C to 60°C
Storage Temperature. : -10°C to 60°C
Humidity: 10% to 95 % relative
Power Supply :230 Volt / 50 Hz ± 5%
Battery Backup: In Built Battery Backup (6 V Sealed Maintenance Free Battery)
Power Consumption : Less than 10 Watts
Display: 7 Segment Bright LED Display
All Models & Designs Are Subjected to Change
All Models Are Approved by Department of Weights & Measure, Govt. Of India
Features:
Compact and Light Weight
100% Tare Facility
Advanced Micro controller Based System
Acrylic Wind Shield for Stable Better Performance
Overload Protection for Safety
Fast Response < 2 Seconds
Easy Operation with Feather Touch Membrane Keys
Most Precise and Best Quality Components
Stainless Steel Pan
Bright Clear (Red) LED Display
Port for External Display
Auto Calibration
Multi Weighing Units Like Gram, Tola, Carat, Piece Counting
Stand by mode For Long Time Backup (Battery Saving)
Stand by mode For Long Time Backup (Battery Saving)
AC / DC Indicator
Applications:
Jewellery Showrooms for Gold, Silver and Precious Stone Weighing
Laboratories
Chemical, Pharmaceutical Industries
School & Colleges, Institutions for Experiments.
Research & Development For Analysis
SWISSER INSTRUMENTS PVT. LTD.