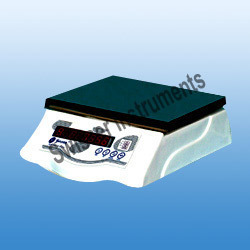 Product Description
Industrial Weighing Scale
| | | | |
| --- | --- | --- | --- |
| Model No. | Capacity | Accuracy | Pan Size |
| SWII 002 | 2 Kg | 0.2 gm | 240 mm X 190 mm |
| SWII 031 | 3 Kg | 0.1 gm | 240 mm X 190 mm |
| SWII 005 | 5 Kg | 0.5 gm | 240 mm X 190 mm |
| SWII 051 | 5 Kg | 0.1 gm | 240 mm X 190 mm |
| SWII 062 | 6 Kg | 0.2 gm | 240 mm X 190 mm |
| SWII 101 | 10 Kg | 1 gm | 240 mm X 190 mm |
| SWII 105 | 10 Kg | 0.5 gm | 240 mm X 190 mm |
| SWII 202 | 20 Kg | 2 gm | 240 mm X 190 mm |
| SWII 201 | 20 Kg | 1 gm | 240 mm X 190 mm |
| SWIID 01 / 02 | 1 / 2 Kg | 0.1 / 0.2 gm | 240 mm X 190 mm |
| SWIID 02 / 05 | 2 / 5 Kg | 0.2 / 0.5 gm | 240 mm X 190 mm |
| SWIID 03 / 06 | 3 / 6 Kg | 0.1 / 0.2 gm | 240 mm X 190 mm |
Specifications:

Operating temperature: 10°C to 60°C
Storage temperature: -10°C to 60°C
Humidity: 10% to 95 % relative
Power supply: 230 volt / 50 Hz ± 5%
Power consumption: Less than 10 watts
Display: 7 segment bright LED display /LCD display
All models & designs are subjected to change
All models are approved by Department of Weights & Measure, Govt. of India

Features:
Advanced micro controller based system
Overload protection for safety
Most precise and best quality components
Stainless steel pan
Bright (red / green) LED display
Auto calibration
Liter / Kg conversion
Standby mode for long time backup (battery saving)
AC / DC indicator
RS 232 port for computer / printer Interfacing
Hook facility available for suspended weighing as per requirement
Dual display on 360° revolving pole or back side for easy reading

Applications:

Jewelery
Laboratories
Chemical, pharmaceutical industries
School & colleges
Packing units
SWISSER INSTRUMENTS PVT. LTD.